My favourite place in Bali is when I'm on my bed just wearing a Balinese sarong.
Nice to finally meet you. What are you up to lately?
I'm just happy to be in FHM. Lately my days have been full of modelling jobs, photo sessions just like now, hang out with my friends and I'm soon to open a boutique in Seminyak, Bali. It's a women's clothing store that I open with my mom with a down to earth concept. Also, I'm going to Hong Kong soon for a photo session to make an ad and for a magazine fashion pages.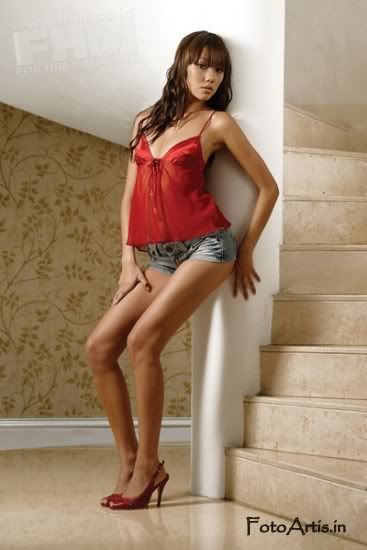 Which do you prefer: walking the catwalk or posing in front of camera?
I like them both. But so far, I'm more confident in front of the camera. Maybe because I'm only 175 cm tall. Most runway models are above that height.
You're tall enough for us. How long have you been a model?
You must be surprise when I tell you, I've only been doing this for merely months.
Really? Who found you?
It really happened coincidently. One time a Balinese designer asked me to walk for his new collection. And at the show, I was introduced to Fahrani, a senior model. And after that, she asked me to pose for a magazine and went on from there...
Where do you live?
My dad is Balinese-Chinese and my mom is Swedish-Danish, and out came me like this. Ha ha! And yes, I live in Bali.
Can you speak Balinese?
Sure. I go to the market often with my mom and we sit there and have a chat with people while eating delicious yellow Balinese rice. She actually speaks Balinese better than my dad. She's lived there for almost 29 years.
How long you've lived there?
Well, let me tell you my life's story: I was born in New York, I'm a Gemini, by the way. When I'm two years old, I moved to Hawaii. I stayed there for two years and moved to Bali. After Elementary school, I went to junior high school in New York and after that I joined my sister in Copenhagen for high school. And now here I am in Bali. Quite a long story, isn't it? Ha ha!